Distribution quality assurance through registration and deregistration procedures for delivery staff
Distribution districts – always up to date
HUP VQS-Online is a live status monitoring of your distribution districts. In your personal area of the portal www.vqs-online.de you can see the status of your distribution districts at any time.
From now on, there is no longer any doubt as to whether a distribution has already been successfully completed, has not even been started yet, or whether there may be a current problem during distribution.
Status reporting – optimize without wasting time
According to the number of areas to be monitored, you receive a call number block that contains both area identifiers and status information. The delivery person simply stores the VQS online phone numbers of his or her territory(ies) in his or her cell phone and uses these FREE of charge for the following status messages:
Red – Problem encountered, request call back.
Yellow – Start distribution
Green – Distribution successfully completed
Try it out free of charge
The status messages are structured in your personal area at www.vqs-online.de by different coloring of the distribution areas – this display is almost without time delay. On the portal you will find free sample call numbers. In the area for which you have called, the status change is displayed directly. It's that simple.
VQS-Online at a glance:
No investment in hardware/software
No additional technical requirements for your hardware/software
No dependence on your sales software
Low, monthly usage fees depending on the areas monitored
Very simple operation and therefore no training period
Telephone numbers are provided by VQS-Online
Technical handling of incoming calls takes place in the data center and does not burden your company's system landscape.
We support you and your team with our software and are happy to advise you.
You can reach us by phone at
+49 531 28181-0
or by e-mail at
info@hup.de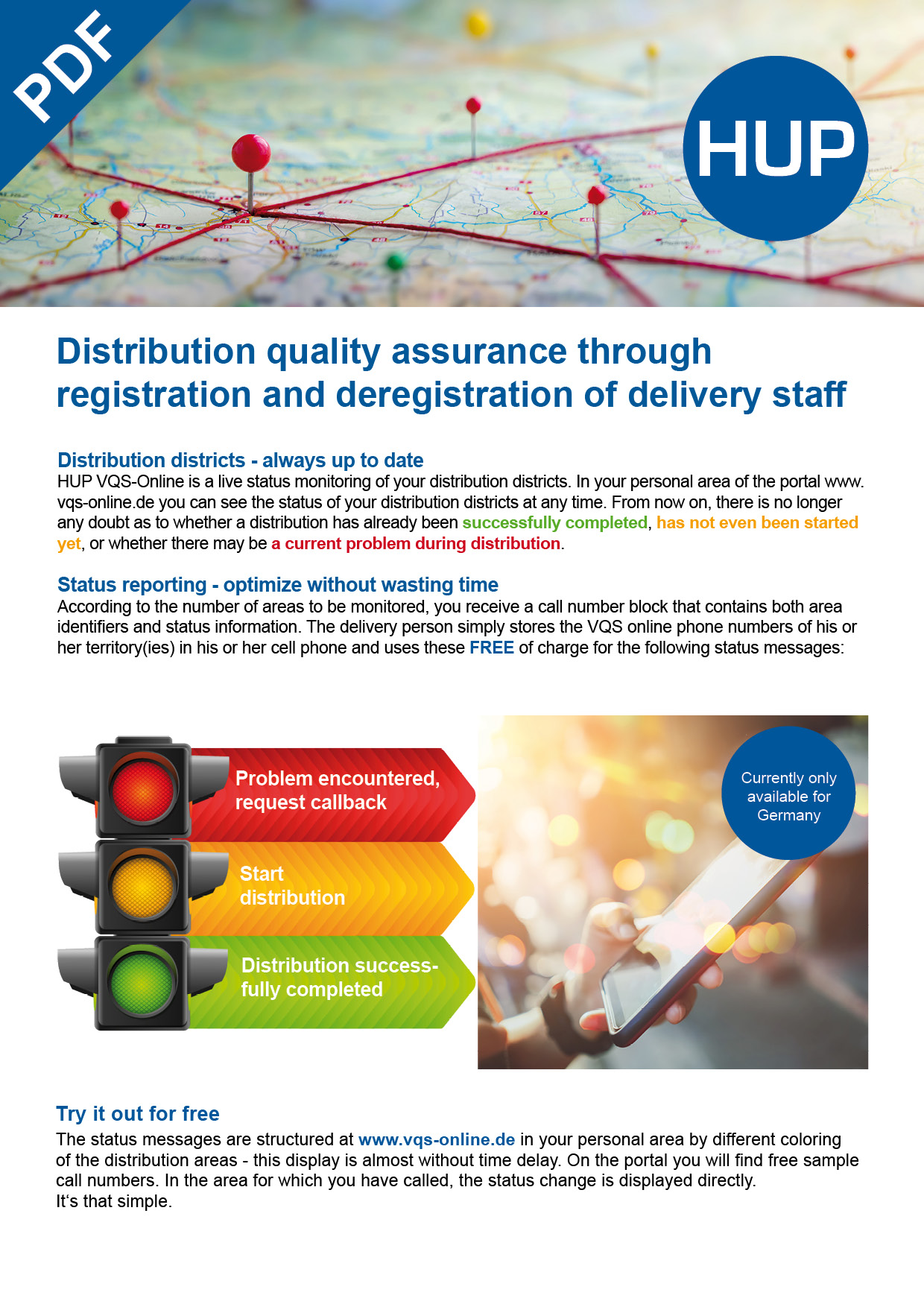 You would like to use vqs-online at your site? Write to us!