Modern payroll solution
SBS Lohn plus®
Powered by Wolters Kuwer
SBS Lohn plus® is well established: Around 3.5 million payrolls are processed monthly with SBS Lohn plus®. This is also proof of the trust our customers place in us. SBS Lohn plus® is a sophisticated GKV-certified payroll accounting system that is characterized by transparent and practical handling.
What makes SBS Lohn plus® so successful
The most important thing for your payroll accounting is correct accounting in accordance with applicable law. You can rely on SBS Lohn plus®. With the integrated update function, you are always up to date. The system places great emphasis on automation, which simplifies payroll accounting and significantly reduces the time required. Another plus are various construction wage automations, which simplify the complex construction accounting.
The software is just as interesting for tax consulting professions as it is for small and medium-sized enterprises in a wide range of economic sectors. Of course, also for special sectors such as construction, public service and industry.
 Your product benefits at a glance (excerpt)
Automatic workflow control through checklists
Nothing remains undone
High processing speed even with extensive settlements
This also leaves time for the important things
Always up to date through integrated updates (timely compliance with legal requirements)
A reliable support
SBS Lohn plus® follows the logical flow of a typical payroll calculation
You reach your goal faster
Very short training period for payroll clerks
So that you become a fast starter
Fully automatic processing of the company pension plan
Included in standard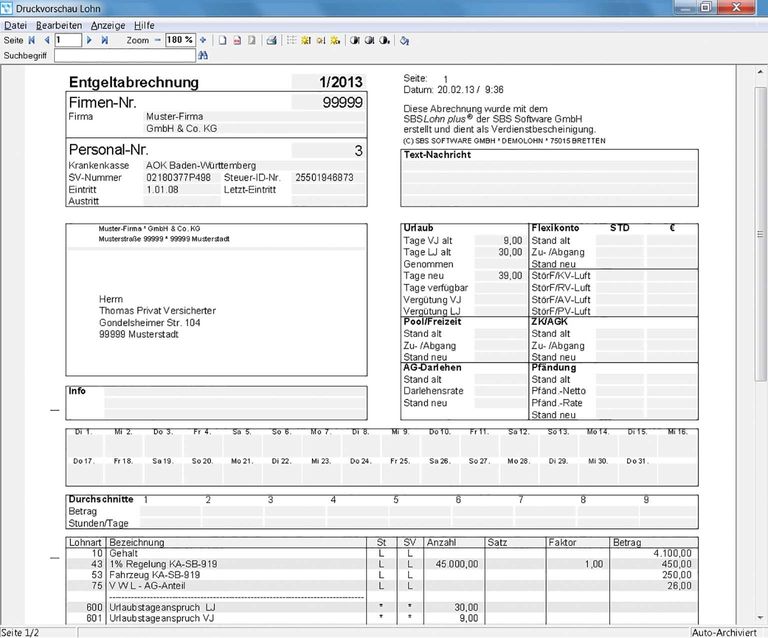 Print preview of the payroll
The SBS Payroll plus® WebCenter
No matter where, no matter when and no matter with what, that is the trend when it comes to obtaining information. Internet and online services are more popular than ever.
The WebCenter as an Internet portal ensures the provision or exchange of documents from the SBS Lohn plus® system. If, for example, a service provider's business model changes in the direction of the Internet and online services, the WebCenter will also support you here.
Direct delivery to the Internet
Secured transmission and encryption
Portal-controlled access to your evaluations, even from home
Printing cost and postage saving
Automatic creation of user accounts
email notifications
Dynamic PDF generation
Multi-company users (e.g. for branches)
Integration into the SBS Lohn plus® automatic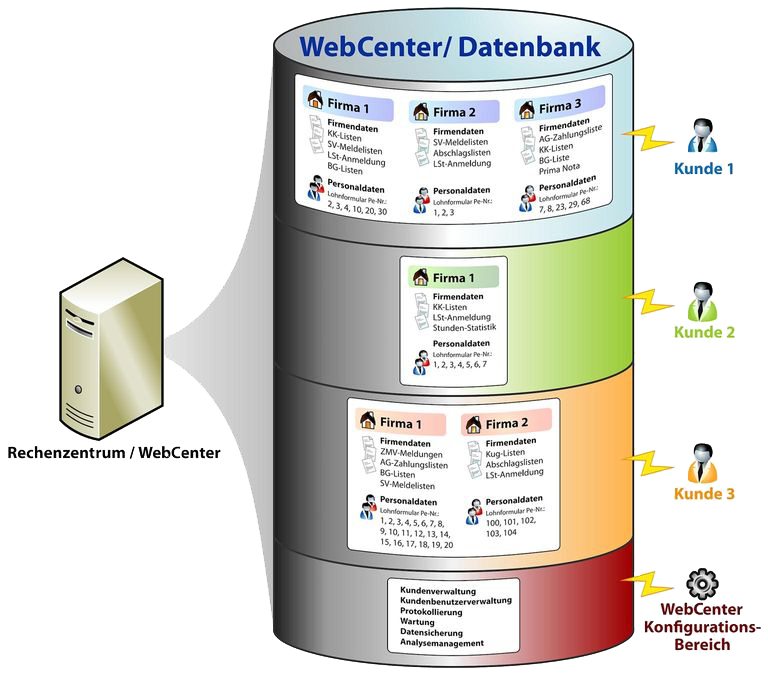 SBS Lohn plus® WebCenter
  Call now for a no-obligation consultation!
It is almost impossible to list all the benefits of SBS Lohn plus® here. Let us convince you of the advantages of SBS Lohn plus® in a highly informative product presentation.
Use the form below to arrange a non-binding consultation and let SBS Payroll plus® and its professional team convince you.
We look forward to your call.
Fotos: Adobe Stock / Illustrations: Wolters Kluwer