Reminder App: my-buddy
my-buddy-app – the HUP Reminder App protects against loss of the iPhone.
A life without my-buddy-app? It's possible, but pointless. On a business trip, on your way to an important customer meeting, the date with your partner isn't fixed yet, it's grandma's birthday – and you leave your iPhone wherever you go.
No stress, the new my-buddy-app will never happen to you again. If you have an Apple Watch and this app, buddy will remind you in less than 60 seconds after the connection is lost. The app connects to your smartphone via Bluetooth and uses your Apple Watch to notify you visually and via vibration if the connection is lost. You'll also know what time it happened and the approximate location, provided you allow GPS to be used.
If you want to use the service for more than one iPhone, you can expand it by purchasing the premium version for 3.99 euros – and thus also protect numerous Bluetooth Low Energy devices such as MacBooks, tablets and Bluetooth beacons.
Your buddy is there for you: you can connect up to 20 Bluetooth low energy devices like iPhones, MacBooks, your Apple Watch, Tablets and Bluetooth Beacons! In order for buddy to work optimally, you have installed at least the 3rd generation Apple Watch and the system versions from watchOS 5.0 and iOS 11.0 on your devices.
Please read the my-buddy-app Terms of Use and privacy policy before using and installing the my-buddy-app reminder app.

A life without my-buddy-app? Possible, but pointless.
Click here to download …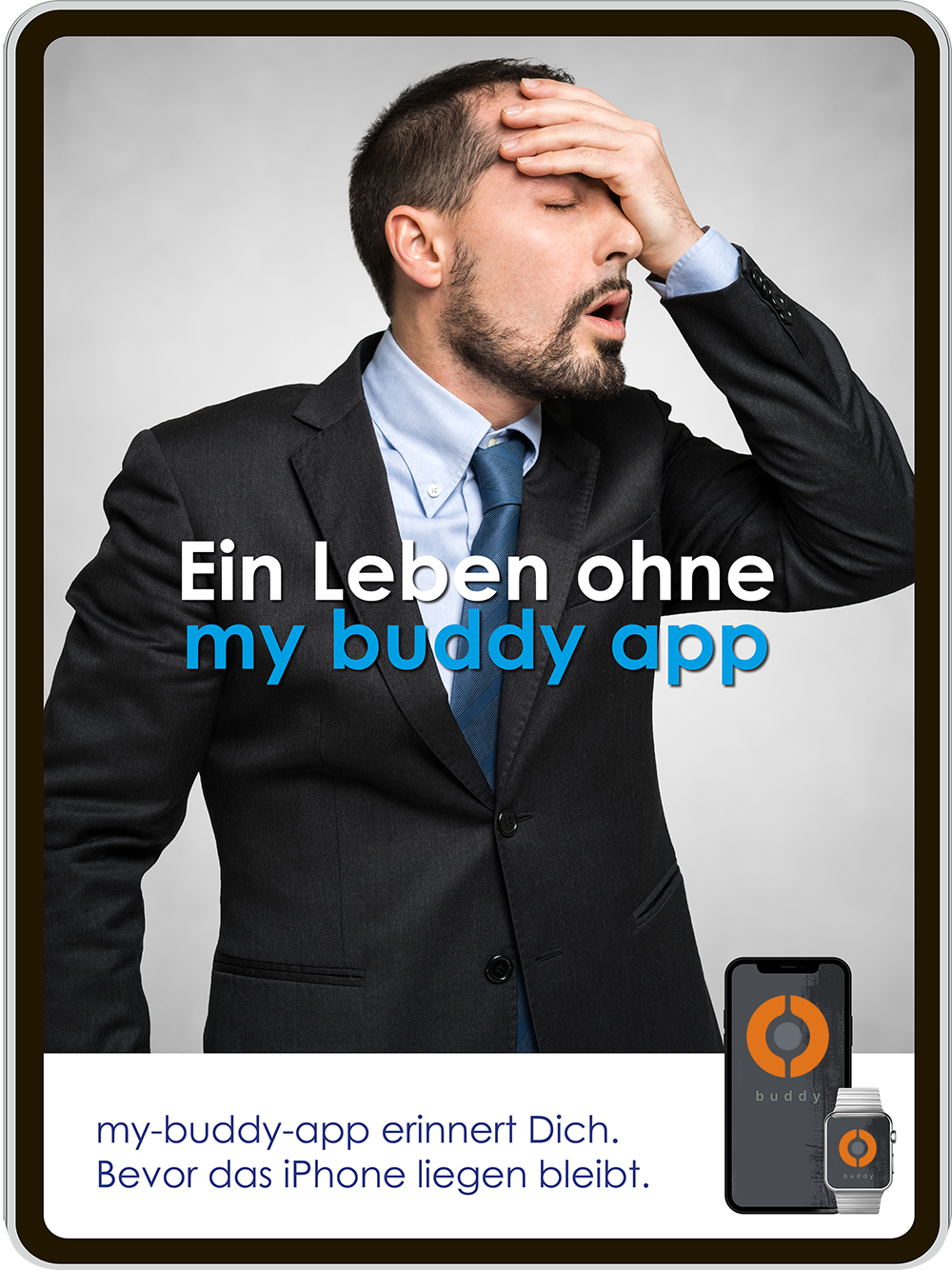 How my-buddy-app can protect your devices from loss
You've chosen not to have to travel without your iPhone or other Bluetooth-enabled device in the future, because it's in a hurry. From now on your my-buddy-app protects you from loss and shows you approximately where the device is. Please read it carefully so that buddy can support you optimally.
If you want to use the service for more than one iPhone, you can expand it by purchasing the premium version for 3.99 euros – and thus also protect numerous Bluetooth Low Energy devices such as MacBooks, tablets and Bluetooth beacons.
Here you will find general information, operating texts and help if the my-buddy-app does not react as expected. If you have further questions, you can simply contact us via the support.
Here you will find user information.
General information about the app
I. Device is not connected (red dot)
If you see a red dot in the line of a device in the corresponding switch, this means that this device is currently not connected.
II. What does the switch do? (Notification Switch)
The switch serves as an on/off switch for the notifications to the respective device. If the switch is orange, you have temporarily deactivated the notifications for this device. Simply start the switch manually to activate the notifications immediately or buddy will automatically do this for you later. By the way, buddy will show you the red dot even if you have not activated the notifications for the device.
III. delete device
To remove a device, you can simply delete it with a swipe to the left in the corresponding line.
Operating texts
What does the orange switch mean, how can you add a new device or optimally set permissions? Please read the following application tips and information carefully. It's worth it before your iPhone or other device gets stuck.
I. Notifications are temporarily disabled
The orange switch means that the notifications for this device are temporarily disabled. Activate the switch manually to start the notifications immediately, or let my-buddy-app activate them again automatically later.
II. Add devices
The "Done" button at the bottom right adds all devices where the switch has been activated. With the "X" you can stop adding new devices to the my-buddy-app. The list of devices will be updated as soon as the system has found new devices. buddy lists all Bluetooth Low Energy devices.
III. Setting the permissions
If you install the app, make sure to allow notifications on the first screen. The release of GPS is optional. We recommend the use of "Always use" if you want the last possible location to be displayed if the device is lost.
IV. Device was lost
If your device is lost, you can click on the respective line of the device in the my-buddy-app. buddy will then inform you on which day and at which time you lost it. If you allow the use of GPS, buddy can also show the location where you lost your device. You can also click on this location to go directly to Apple Maps and navigate to your device.
V. How do I rename a device?
Two or more devices may have the same or similar name. To make sure you know exactly which device it is, you can change the device name. Press and hold the line of the device until a window opens where you can change the name.
VI. Optimal use with the Apple Watch
Please make sure that Bluetooth is activated and my-buddy-app is installed on your iPhone AND on your Apple Watch. Normally this is done automatically. If you have disabled automatic installation, simply install buddy manually on your Apple Watch. Please start the app on your watch and it will automatically pair. Within a few seconds you will receive the message that the Apple Watch has been successfully installed. For optimal use, add buddy to your Apple Watch dial. Now you can be stress-free and never forget your iPhone.
Error texts
Oops, my-buddy-app is not responding as expected. The following error text will help you if there is an operating error. If not, just contact our support. We are happy to help you if it is in our power.
I. Bluetooth has been deactivated
The connection that the my-buddy-app has established to the devices is realized via Bluetooth Low Energy. If this is deactivated, buddy does not work.
II. No locating and/or loss indication possible via GPS
Apparently, authorizations were changed afterwards so that they are no longer optimal. The app must be allowed to "send notifications" and "always use GPS" so that it can take care of you optimally. You can also use the app without GPS, but the location of your device can only be displayed if you always allow the use of GPS.
III. Features severely limited
It appears that authorizations have been modified retrospectively to the point that they are no longer sufficient. If the notifications are not configured correctly or the permissions "Send notifications" and "Always use GPS" have been changed afterwards, my-buddy-app can't pay attention optimally. buddy will then display no or only a rather inconspicuous notification without sound. So it is very likely that the loss of your device will not be noticed.
IV. No connection between my-buddy-app and Apple Watch
Your Apple Watch is paired via the system, but not paired in the app. Apparently the paired has not been done successfully yet. Please repeat. See 2. IV Optimal use with Apple Watch.
Support
These instructions can be accessed at any time by tapping on the small "i" within the my-buddy-app. If you have a problem with my-buddy-app or if it doesn't work as expected, send us an e-mail with a detailed description of the problem to buddy@my-buddy-app.de. We will reply as soon as possible.