HUP Advent calendar 2020
The prizes
We would like to present the great prizes in detail to our participants: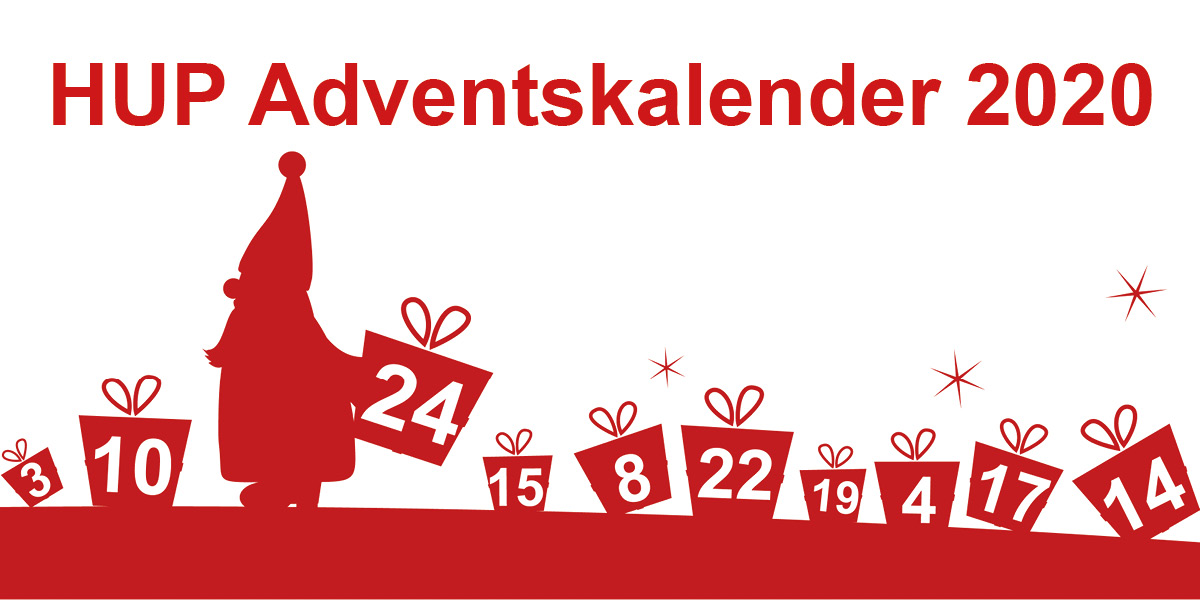 1 x annual food package each Josi "Dog" and Josi "Cat
The honest pet food from the Odenwald. JOSI. These are the best ingredients and a lot of care. This is experienced craftsmanship. And this is healthy, tasty dog and cat food at a reasonable price. Because if there's one thing we are good at in the Odenwald, it's staying on the ground. With Lower Franconian charm and the experience of 85 years of animal nutrition, we provide your dogs and cats with genuine, regional variety. Whether unrestrained young, wild robber or four-legged gentlemen of a more sedate age. "Bassd scho!" At JosiCat and JosiDog we fill every bowl. And not with artificial colorings, flavors and preservatives. But with a lot of love for detail, for our four-legged friend and for our home. Because honestly: It still tastes best at home! More details about Josi HERE.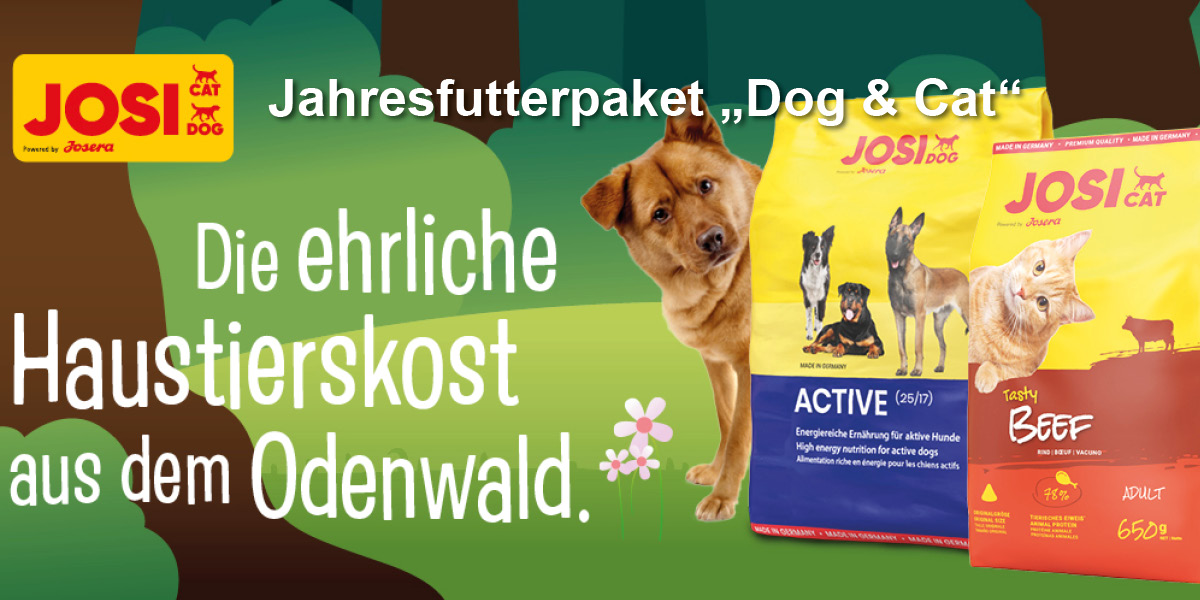 Incl. 1 x Seppl und die Rasselbande book package from migo
Seppl und die Rasselbande – detectives on four paws Seppl, a mixed-breed dog with yellow fur and red ears, has been living at the shelter for many years – until Ben immediately falls in love with him and he becomes the new member of the Hossa family. Quickly he also finds a lot of new animal friends. Bulldog Power, poodle lady Doris and cat Paula quickly become a "rascal gang" and immediately get into a turbulent adventure, because in Miltenberg tourists are robbed by unknown persons during their stay. Seppl wants to protect his new home from the thieves and together with his gang of rascals, he sets out in search of the strangers.
More details about the book can be found HERE.
Seppl und die Rasselbande Painting book Seppl, the mixed-breed dog with yellow fur and red ears, cat Paula, Bulldog Power, poodle Doris and many more characters of the "Rasselbande" around the fur noses are represented in this painting book and can be painted as you like. More details about the book can be found HERE.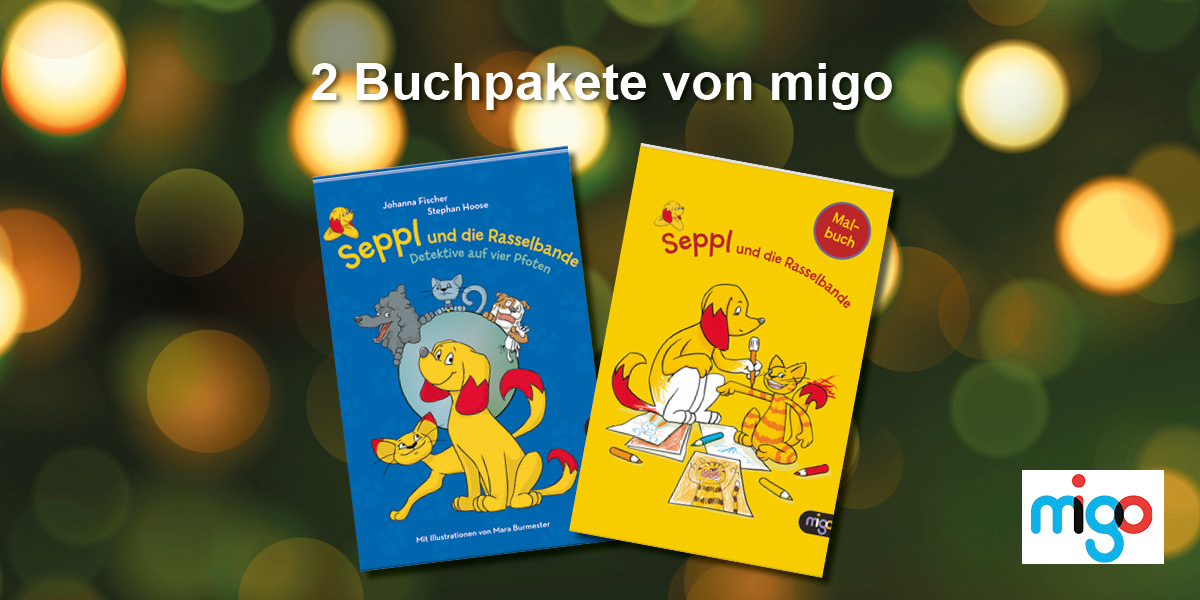 5 x To Go porcelain mugs from Villeroy & Boch
Sustainability and Enjoyment To Go In the office, home office or on the road: Enjoy your coffee or tea sustainably and plastic-free. In the practical 350-ml coffee-to-go cup from Villeroy & Boch you always have your favourite drink with you, whether hot or cold. Thanks to the silicone seal, nothing drips and the sleeve provides heat protection when worn. Made of high-quality premium porcelain. Naturally suitable for dishwasher and microwave.
More information about the To-Go collection, the To-Go cup, which can be branded with your company logo if desired, can be found HERE and many more dreams from noble Christmas decorations to selected icons of table culture can be found HERE.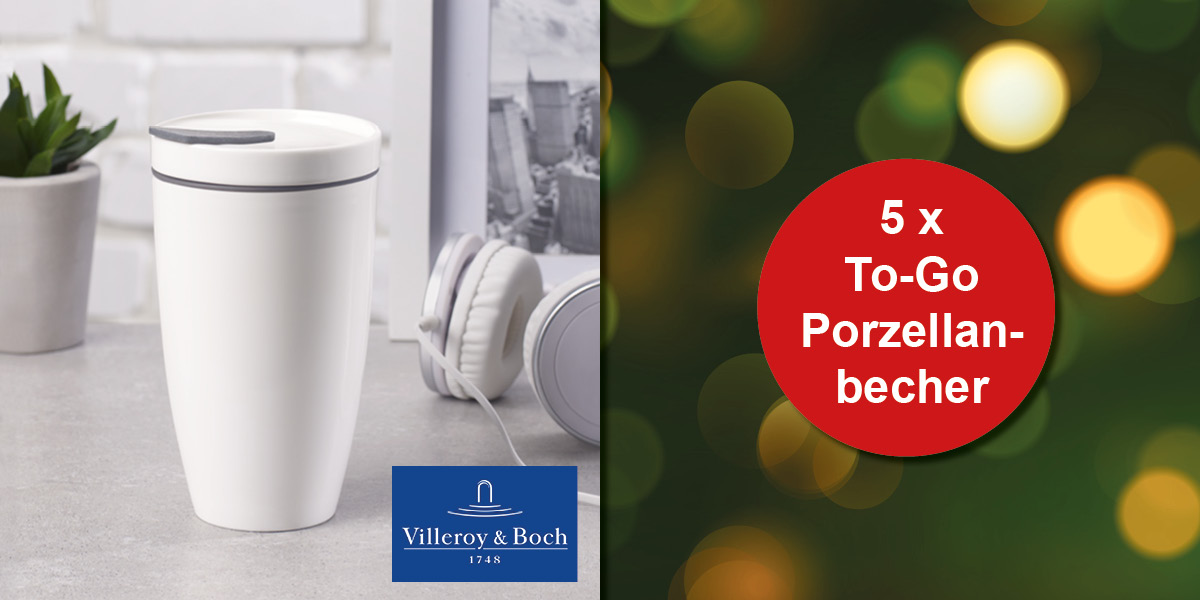 5 x book package from dtv
With the following three great books: Ben Aaronovitch: Ein weißer Schwan in Tabernacle Street Weird, British, magical: In the cult series from London, Bobby and sorcerer's apprentice Peter Grant get to work on the latest project of Silicon Valley star Terrence Skinner! In the universe of artificial intelligence, Peter tracks down a highly dangerous technology. And has to scrape together all his geek-knowledge to save the world (with the help of some magic). Details about the series can be found HERE and more information about the volume "A White Swan in Tabernacle Street" HERE.
---
Marlene Averbeck: Das Lichtenstein – Modehaus der Träume 1913 in the heart of Berlin: Here, 'Das Lichtenstein' leaves hardly any wish unfulfilled and offers its customers a wide range of products – especially women's clothing with a special chic. The department store is a multifaceted microcosm in which the most diverse people and destinies meet. The store girl Hedi dives into the world of fashion with fascination, while the seamstress Thea only has eyes for Ludwig. He, the younger son of the house, wants to maintain the status quo with all his might. His brother Jacob, in turn, has ambitious plans for the future of 'Lichtenstein'. Against all odds he begins to realize his ideas. But then the house goes up in flames – and with it the existence of the employees as well as the owners.
For further information and details, please click HERE.
---
Thomas Reinertsen Berg: Auf einem Blatt die ganze Welt The history of maps, globes and their inventors Magnificently illustrated, excitingly told: The history of maps and globes and their designers and inventors – from the Stone Age to Google Maps With each of the 49 fascinating maps in this spectacular book, Thomas Reinertsen Berg tells the story of its designer. He unfolds the panorama of their time and takes us on a journey through the millennia. For example to Antwerp, the center of cartography in the 16th century, where Abraham Ortelius created the first modern atlas in 1570. From the mysterious symbols of the Stone Age to Google Earth: Thomas Reinertsen Berg tells us how science and worldview, art and technology, power and ambition shape the world maps. "I still remember how much I loved leafing through my atlas as a child and traveling around the world. But there was never anything about why the maps were created – or who drew them. This book is now the opportunity for me to tell the stories of all those men and women whose amazing work deserves to be celebrated". Thomas Reinertsen Berg
You can find information about the book HERE.