Interview with Managing Director Michael Thuleweit
Saving successfully with outsourcing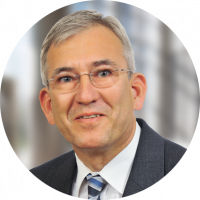 "Every company must ask itself what its core competencies are."
Michael Thuleweit, founder and managing director of the HUP partner tool-e-byte GmbH, on ways in which (newspaper) publishers can produce more cost-effectively without loss of quality and offer their readers/business customers 24/7 cross-industry and specialist services.
What exactly do you do for publishers and other companies?
Michael Thuleweit: We are specialists for the quality-oriented processing of outsourcing orders and take care of communication by telephone, e-mail and chat. This applies to all tasks, including specialist ones such as BtoB and BtoC. Each company has a team at its disposal that is specifically put together to meet its requirements. This gives us the opportunity to cover individual solutions and cross-departmental projects.
For our customers, all processes run in the background and we act as the central contact in German. In order to be able to offer our services cost-effectively and also outside our core business hours – i.e. primarily in language support – 24/7, we have distributed our activities with around 100 employees across several countries and subsidiaries.
How do company bosses feel about it when competences, i.e. know-how, are outsourced to your employees so that they can do the job?
In the beginning there is a certain scepticism, which is quickly overcome when we start working together. The results speak for themselves, and it's also more than economical and useful in terms of customer service to put services professionally into the hands of experts. Trust grows with time. In times of digitalization and market changes, every company has to ask itself what its core competencies are. For most people, answering e-mails around the clock, for example, is not one of them. If that's the case, we should talk – we can do that and much more.
For publishers, the core competencies are the creation of qualified content and the development of trends; everything else can be outsourced with HUP technology – cheaper, just as competent and in some cases even faster. This applies to daily newspapers, magazines and book publishers. Who today can afford to offer simple services with expensive manpower that can be better deployed to boost sales? It is important that the quality of our services is right. That's why we have already been able to win numerous houses for ourselves.
Is outsourcing a living reality or is it still a look into the crystal ball?
In the meantime, production in the broadest sense has been outsourced to a large number of book publishers. On average, only newspaper publishers – as in the digitization process in general – are still somewhat hesitant. For me, this is more than incomprehensible and economically difficult. Newspaper publishers can now even cut themselves a slice with many book publishers when it comes to automation. Apart from the lower costs, the procedure is more than simple for any publisher: we get the content as a Word file from a book publisher, for example. The author or editor inserts his corrections in it, we format this with HUP solutions or InDesign, send it as a third correction loop to the publisher and then the book is ready. It's the same for magazines.
Independently of newspaper publishers, I get even more grey hair when I see, for example, in the bookkeeping department of companies that are digitally styling themselves, some of them still working with paper filing – with the corresponding consequences. This is negligent, often no longer legally compliant and also not customer-oriented.
How can we imagine this in concrete terms? Your employees are based in different countries around the world and from there join in with the provider's world?
That's right. In times of browser-based systems, it is no longer a problem to be active independent of time and place. Our partner, HUP, has several solutions in its portfolio. It's also not completely new: Whoever calls or mails on the service hotline will be contacted and supported by an inbound and/or outbound call center.
How do your employees get the detailed information they need to act on behalf of a customer and, for example, answer complex e-mails?
First of all, it should be noted that we already take over entire business areas for small, medium-sized and even large companies in terms of customer care and successfully implement the tasks. Otherwise, the information process is no different from hiring a new employee. It is also necessary to define what qualifications an employee needs. And then we look for the right one – in Peru, Bosnia or India, etc. – and then we find the right one. The workflow is recorded via gotomeeting at the previous employee of the company who is working through the process, adapted by one of our employees and additionally coordinated with the respective contact person in the company. In this way, we can gradually get deeper and deeper into the subject matter, regardless of location. We use a ticket system so that quality management is also guaranteed and all orders, information and news relevant to the respective job can be recorded in the cloud system. Together with the video documentation on the individual work steps, this also makes it possible to train new employees.
What about language barriers?
Our employees can speak German or are German. All employees in our network are sufficiently tested and must successfully pass through an assessment center.
Must the employees in the service departments expect to be rationalised away when they start?
The opposite is the case. Usually the mail and inbound avalanches are so large that people are happy about our support. Social media in particular often lack the resources to respond quickly to questions and comments from followers – and not to have to pay attention to office hours! We take care of that. The company can then deploy the respective employees strategically or optimize them in sales promotion, etc. The company can then also take over the management of the sales force. The expensive workers are often more valuable with their local skills if you drive these and other tasks forward.
Well, many an old tree you are already cutting down …
If this is the case, it has nothing to do with the fact that workflows and processes have to be adapted to market conditions. Those who as employees – and as companies – do not remain flexible and do not want to take advantage of the opportunities created by digitization, are usually no longer up to date. Believe me, this has nothing to do with age, especially for employees. Especially since the right and important discussion about the working world 4.0 provides for flexible models that correspond to individual inclinations as never before.
The HUP partner tool-e-byte
tool-e-byte GmbH was founded in the summer of 2014 in Griesheim, Germany, and now operates internationally in the fields of digital marketing, software development, accounting and digitization – among others via its own German-language Content Competence Center in Banja Luka. Together with HUP, the company of managing director and founder Michael Thule offers cross-industry outsourcing services across all industries, including networking with the implementation of suitable software solutions. This offer is supplemented by different services, which round off the ranges specified above. These include, for example, data protection and the digitization of documents and workflows, consulting and implementation in the areas of big data, CRM, hosting, web shop and page solutions, ERP, apps and more.