360° marketing and communication
What is wahn&sinnig?
The independent speedboat agency that acts quickly and with marketable, field-tested instruments in the spirit of the task at hand, instead of unreservedly agreeing with the client, i.e. you, in order to – supposedly – secure the budget. We accompany the process all the way to implementation. Because an idea is only as good as its practical implementation.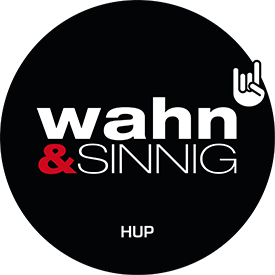 Take a look directly at wahn&sinnig, or read how wahn&sinnig sees itself:
We certainly agree: the challenges and opportunities to assert oneself with one's brand, products and image have increased significantly. Globalization and digitalization have led to new markets, the demise of many existing business models, changing customer behavior and overarching competition. This has a direct impact on marketing and communications. On the one hand, it is easier than ever to reach many people in a targeted way, but at the same time, the process as a whole has become increasingly complex and the choice of optimal channels has not become easier due to the atomization of the media landscape. Whether budgets are small or large, goals small or large – the boundaries between delusion and sense are narrow, often blurring and conditioning each other – at least creatively.
It is understandable that, under these circumstances, companies would like to have the marketing competence in-house. However, the totality of tasks usually does not allow for this, especially since a (good) agency can work in a much more focused manner, does not get lost in the company's daily routine, and does not fall into structure-related traps.
In order to be able to solve the existing and not diminishing tasks, a new type of agency is needed:
The courageous creative center, which directly delivers ideas that form the basis for success, without loss of information through contactors, doubters & co. The wheel does not necessarily have to be reinvented. The customer specifies what he likes.
The experienced consulting company that brings entrepreneurial competencies, industry and market experience to the table in order to be able to act in a way that makes economic sense for the task at hand.
The team-oriented network that supports you and your employees, colleagues to achieve the goals.
Take advantage of our vast experience from entrepreneurs for entrepreneurs. As a business unit of the software forge HUP and based on the strategic cooperation with SEO kitchen and clk-promotion, among others, you get a 360-degree service – from social media, spot productions, native advertising, corporate publishing and building your community. Because if you want to present yourself, your company, your brand world and your product portfolio comprehensively and sustainably and market them independently, you need your own platform (owned media). This future has already begun …
You can find us in Hamburg, Frankfurt/M. and Munich.
Our service portfolio:
Brand building
Community
Social media, influencer & blogger relations
Conception
Increase customer loyalty, win new customers
Cooperations
Content creation
Sales expertise
Event marketing
Image brochures
Catalogs
Web design
Posts, advertisements, radio, cinema and TV commercials
Corporate publishing
PoS materials
---
"The predominantly long-term cooperation with our clients is our most important proof of performance."
Boris Udina, Head of wahn&sinnig
---
But now quickly take a look at the wahn&sinnig site and discover,
what we can do for you.
Or you can call us directly:
+49 531 28181250
+49 174 3261116
boris.udina@wahnundsinnig.de

We can support you with our agency? Write to us!
Agency – Branding – PR – Press Relations – Customer Loyalty – Consulting – Social Media – Online Marketing – Braunschweig – Coswig – Leipzig – Mainz