HUP at BDZV Digital Congress
HUP at the beBETA 2022 in Berlin
On June 20 and 21, 2022, the greats of the German newspaper landscape met in Berlin. Under the motto "journalism in progress", the moderators Freya Oehle (CEO Dreitausensassa) and Lars Haider (Editor-in-Chief Hamburger Abendblatt) led through the digital congress. All information about the program can be found

on the congress website

.

On the subject of beBETA and more, we interviewed haben

Lars Haider

,

Holger Kansky

, Head of Digital at BDZV, and

Marko Oette

, COO PS.Content.
We also did a little live coverage of beBETA. Pictures and more are available on: Facebook and on LinkedIn.

Thank you for visiting the HUP booth and the breakout session with HUP COO Marko Oette!
"NEXT GENERATION CONTENT PUBLICATION – or why you soon won't care about adblockers" – that's exactly what Marko Oette explained on Tuesday, June 21, at 11:00 a.m. at the beBETA Congress and how you can concretely benefit.
His conclusion: media professionals and content managers in publishing houses, agencies, PR departments and corporate publishers can work more easily, quickly and efficiently with the innovative all-in-one solution.
Dear editors-in-chief, publishers and managers – your editorial and content team will love our solution. And so will your advertising customers. Through the PS.Content #Portal AdBlockers don't stand a chance. Let us surprise you with the ROI.
Find out more about PS.Content and #Portal here.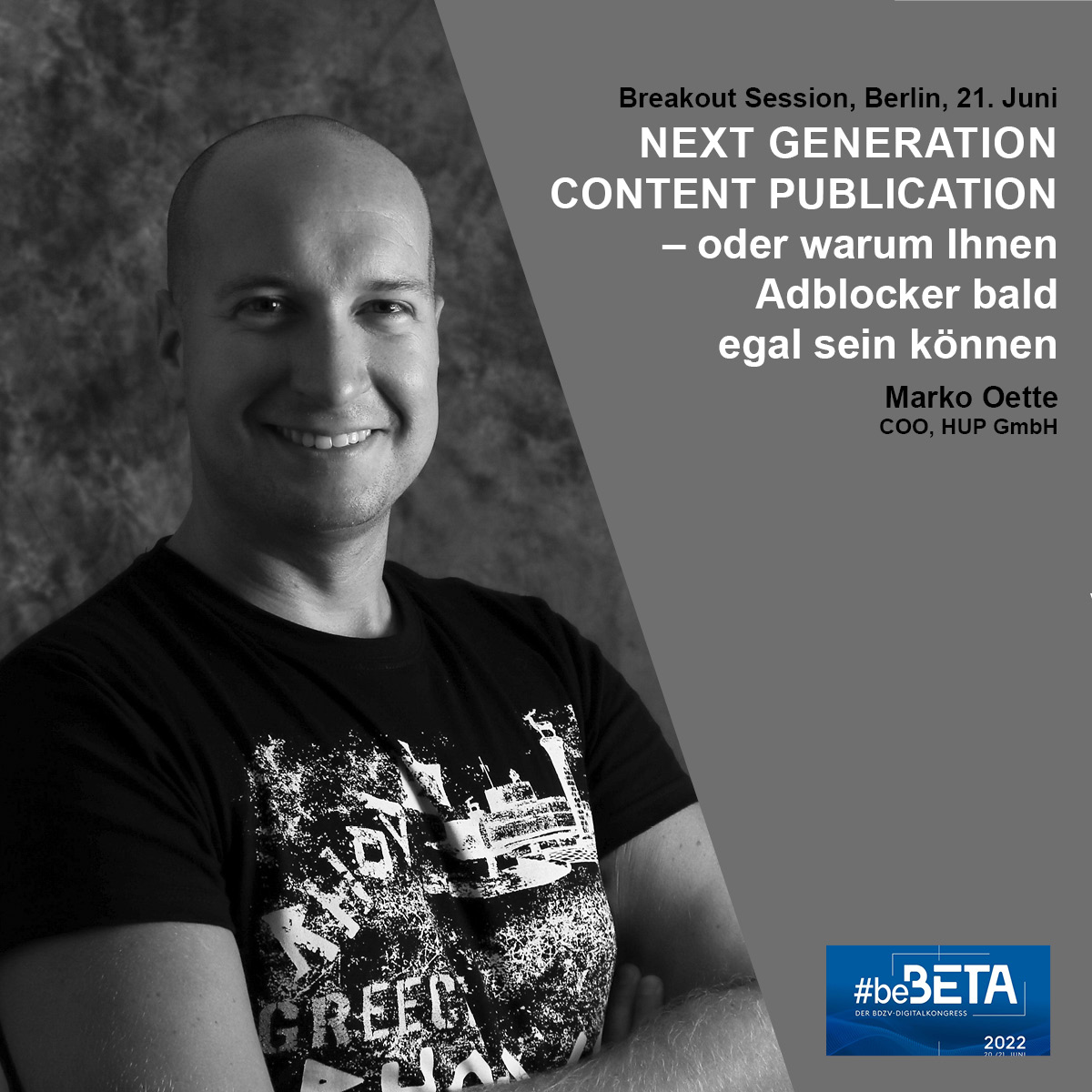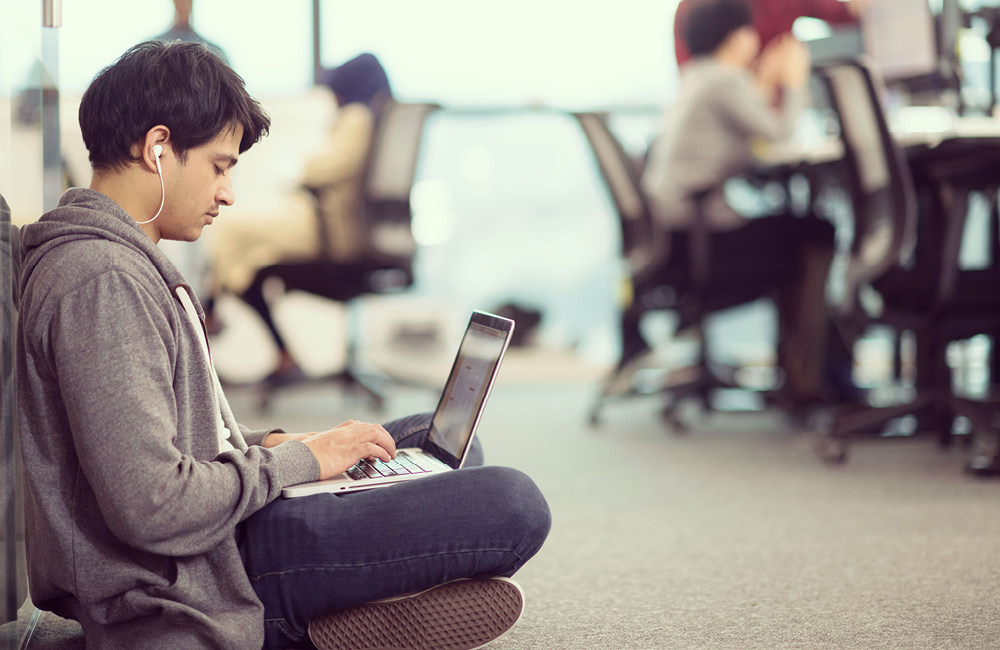 "The future of the newspaper is very real"
Lars Haider, moderator at the Digital Congress and editor-in-chief of the "Hamburger Abendblatt," names a topic he himself would like to be invited to address, celebrates the changing role of editors-in-chief, and has a clear answer to the question about the "Future of the Newspaper in the Metaverse."
Mr. Haider, you will be moderating beBETA again this year together with Freya Oehle, founder and CEO Dreitausendsassa – this time in presence. What are your expectations?
Lars Haider: After two years in the home office, I'm particularly looking forward to finally seeing many colleagues again and being able to really look them in the eye during the talks.
As Editor-in-Chief of the "Hamburger Abendblatt," what are you particularly looking forward to?
Lars Haider: I'm most interested in the latest developments in audio, where we at the Abendblatt do a lot with our almost 30 podcasts and will do even more.
As editor-in-chief, what topic would you like to be invited to cover?
Lars Haider: The topic would be "Why it's important that editors-in-chief remain journalists, and not become managers"
How are you approaching the future at the Abendblatt in and with the editorial department – shaped by pandemic, war and local reporting?
Lars Haider: We want to inquire even harder and stay on topics much longer than in the past, when we made it too easy for politicians and others with their announcements because we didn't follow up enough on what became of them.
How will the role of the editor-in-chief change in the future?
Lars Haider: The most important change is one that I'm very excited about: today, we can use data to do journalism that readers are sure to be interested in, and we don't have to rely on the gut feeling of the editor-in-chief.
Do you see the future of the newspaper in the metaverse – in the sense of (didactically and editorially profoundly prepared) experiences that may reach a broader mass of content users in the future?
Lars Haider: The future of the newspaper is very real, as the major issues of our time show.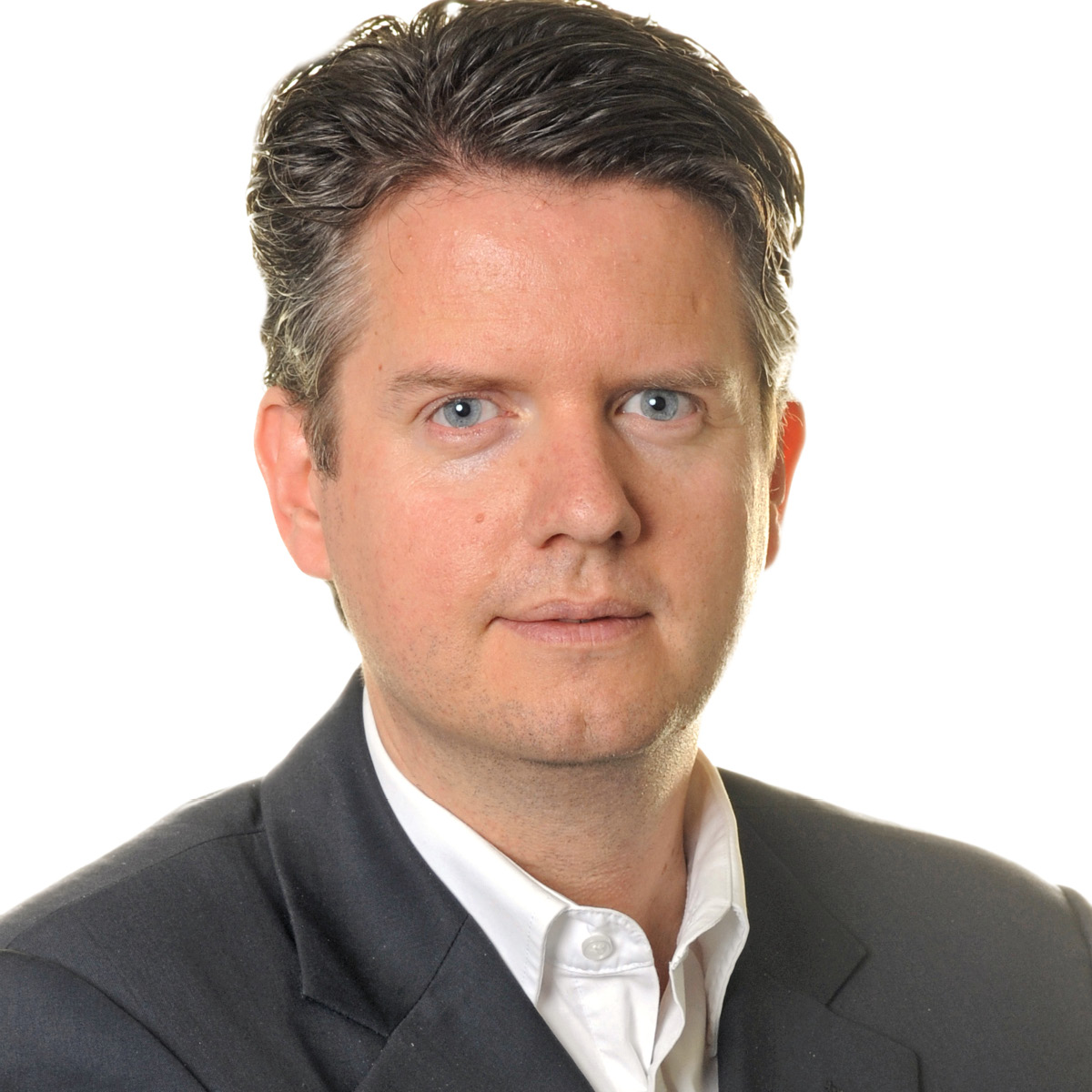 Lars Haider, Editor-in-Chief Hamburger Abendblatt
Photo: Hamburger Abendblatt
"A long process with winding paths"
beBETA HUP special interview with Holger Kansky, Head of Digital at BDZV and responsible for the beBETA digital congress, about changes compared to pre-Corona times, this year's top topic and future plans.
Mr. Kansky, there are still a few days to go until beBETA 22. Can you still sleep well?
Holger Kansky: Well, yes, I've been doing beBETA as part of the team for a long time, but of course, looking back, there have always been situations that rob you of sleep. Compared to the studio productions in the past two years, with the worry of whether the international circuits would technically come off as planned, this year it's even more relaxed again … .
But the positive tension and a kind of stage fright remain, of course. As every year, the program planning is a big challenge. What are the relevant topics, which speakers are suitable? That's always a long process with winding paths – and in the end, ideally, everything looks like it's been cast from a single mold.
What do you see as the major theme of this beBETA?
Kansky: Paid content and the ways to successfully increase digital subscriptions, as well as conversion and retention optimization. From my point of view, there are very ambitious goals among publishers in terms of subscription acquisition. But publishers generally have good plans to close the revenue gap that is increasingly appearing in the print business, which is still very relevant economically.
What mood do you expect?
Kansky: There is a big change that I like very much: the family atmosphere, the personal contact are valued more again, the discussion atmosphere is very open.
You are expecting around 300 decision-makers. Where will the rest be?
Kansky: Well, we are not the only offering, of course, but we still try to organize a class reunion of the industry every year. There is, of course, a desire for the number of participants to grow, but in order to achieve that, we would probably have to position ourselves even more broadly in terms of topics – at the expense of beBETA's USP. And personally, I feel pretty comfortable with the current size. However, after two Corona years with very few attendance events, we have the feeling that 80 percent of the interesting dates in Germany are spread over exactly two weeks in June. Hopefully, this will become more evenly spread in the future.
How closely do you coordinate with other associations such as the BVDW and MVFP?
Kansky: In the digital business, the challenges of the aforementioned associations are similar, so we naturally coordinate where it makes sense. However, beBETA will remain a BDZV event, at least in the long term.
This could be interpreted as a response to the discussed merger of BDZV and MVFP …
Kansky: The topic comes up at regular intervals. We already sit together spatially in the Haus der Presse and coordinate our topics regularly anyway.
One last curious question: How many have learned the "new" name of the Federal Association of Digital Publishers and Newspaper Publishers?
Kansky: Within the industry, the name has certainly been internalized, especially since some state associations have also changed their names. Outside of it, things are still a bit different. We are working on it.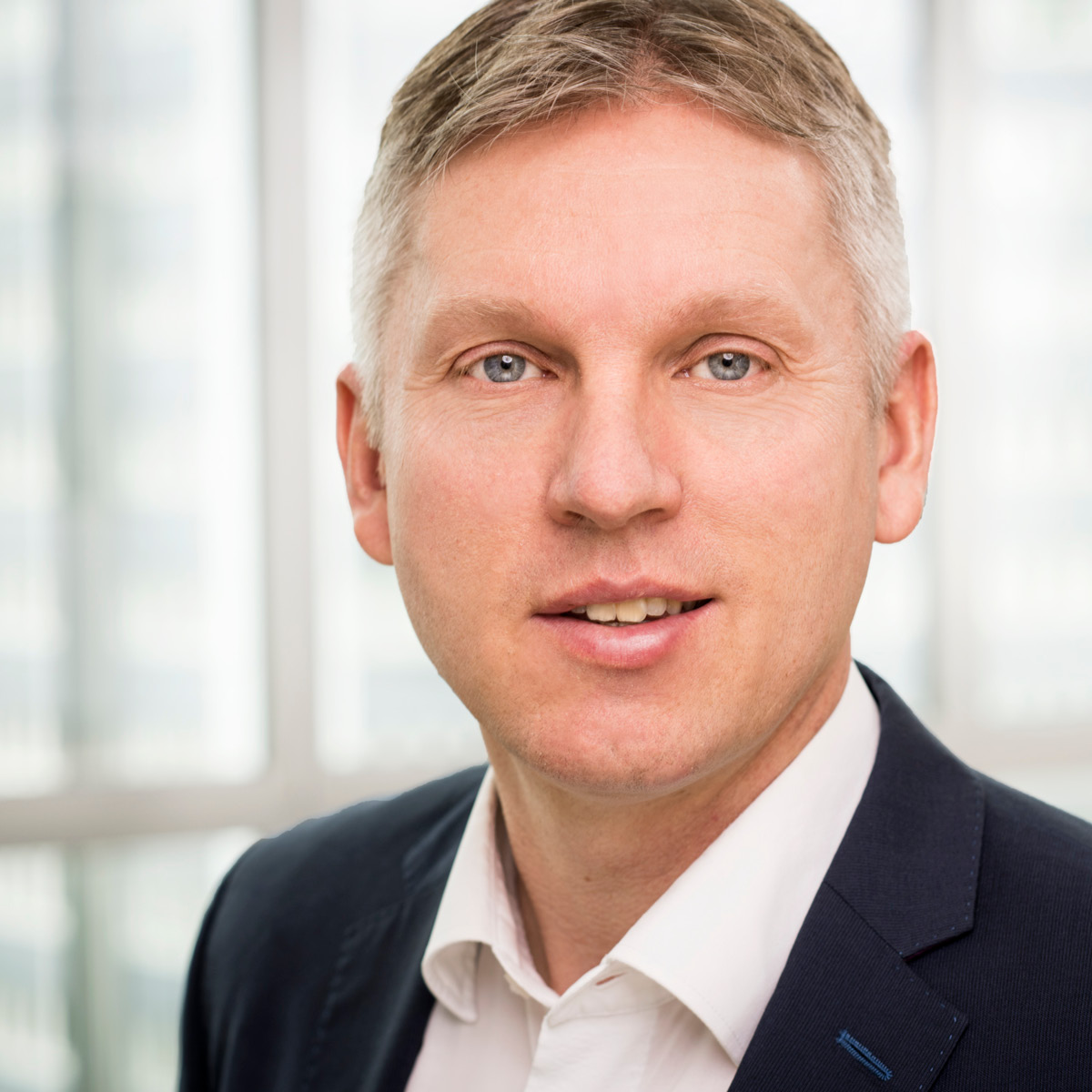 Holger Kansky, Head of Digital at BDZV
"It secures the economic basis for journalism in the future"
In a breakout session at beBETA 22 on June 21 at 11:00 a.m., they will present the topic "Next Generation Publication" and why adblockers no longer play a role! For those who can't be there: What's behind it?
Marko Oette: This is the crux of the matter: How will companies finance their expensive content-driven websites in the future while taking the interests of their users into account? It is more than understandable that content on the Internet has to be financed. But if you decide not to have a paywall, or to display advertising in part or in full, this should also be implemented in a targeted and fair manner.
That is also your own perception?
Marko Oette: Of course! I myself find it very annoying to be presented with, or even have imposed on me, advertising on a website whose content does not appeal to me or which completely distracts me from the content. The result: I avoid the offer, editorial services are at least diminished and in the end the reader basically looks for other websites – or activates his adblocker.
And now you offer website operators the new chance to optimize the strategy and the technology in a context-sensitive way, so to speak … .
Right, I want advertising to be placed fairly, that the website operator has the perfect tool for this, independent of ad servers – and this is possible with PS.Content #Portal. With our new technology, developed at HUP, we offer our customers, be it a publishing house or a company from another industry, the possibility to display user-affine ads on their websites, bypassing the adblocker, and to do modern micromarketing.
And that …
Marko Oette: … this increases acceptance, dwell time, added value and ultimately pleases advertisers, which can lead to more advertising revenue on pages with #Portal in the medium to long term. This in turn secures the economic basis for journalism in the future. Because simply playing out advertising broadly to achieve the gross reach booked is not only old school, it successively leads to no marketing success.
And this simple yet ingenious idea had to be developed only now?
Marko Oette: It's certainly a great achievement by our development team, but it's also an important answer to the crucial question for website operators: Do I want to make my users happy? I know that data protectionists like to raise their fingers at this point. And whether the advertising offer is always in the consumer's interest would also have to be evaluated neutrally. But the fact is that website operators who want to earn money and their users have divergent interests. Generating revenue versus the need for information.
How did you come to the conclusion that #Portal needed to be completely rethought?
Marko Oette: With our partner native media, we have equipped existing portals and continue to do so. In the course of this, we came to the conclusion that we needed our own solution to be able to publish content with the modular headless CMS PS.Content. After examining existing market offerings from WordPress to Drupal, it quickly became clear that we could only make an innovative, consistent offer to the market based on our new technology.
How does this work technically in the background, or is it a question of Coca Cola's secret formula?
Marko Oette: We use a trick: Through our solution, a server-side pre-rendered single-page application is delivered, but it looks like a website. At the moment of playout, the web server has already integrated everything – including ads. Ads, in turn, are indistinguishable from normal content, such as images and logos, in the page's source code. Filtering out the ads is thus avoided … – and since no external ad server is used, which shoots in any run-of-network ads, one has full control.
The instrument does not belong in the wrong hands …
Marko Oette: Of course, the system is only fair in the sense of the user, if the website operator takes his website visitors seriously and wants to welcome them on his pages in the future.
The name PS.Content #Portal easily leads to the conclusion that the HUP solution also only works with PS.Content …
Marko Oette: That's right, #Portal needs a content management system. PS.Content is a headless CMS, with the great advantage for editorial work in publishing houses, press agencies, communications departments and corporate publishers that various channels can be automatically populated with content. It also offers excellent analytics potential and real-time measurements to boost performance. PS.Content can again be used without #Portal.
Your forecast regarding success in DACH?
Marko Oette: We would be delighted if, in the medium term, as many website operators as possible use #Portal to free themselves from adblockers, among other things, and raise their editorial teams to a new level with PS.Content.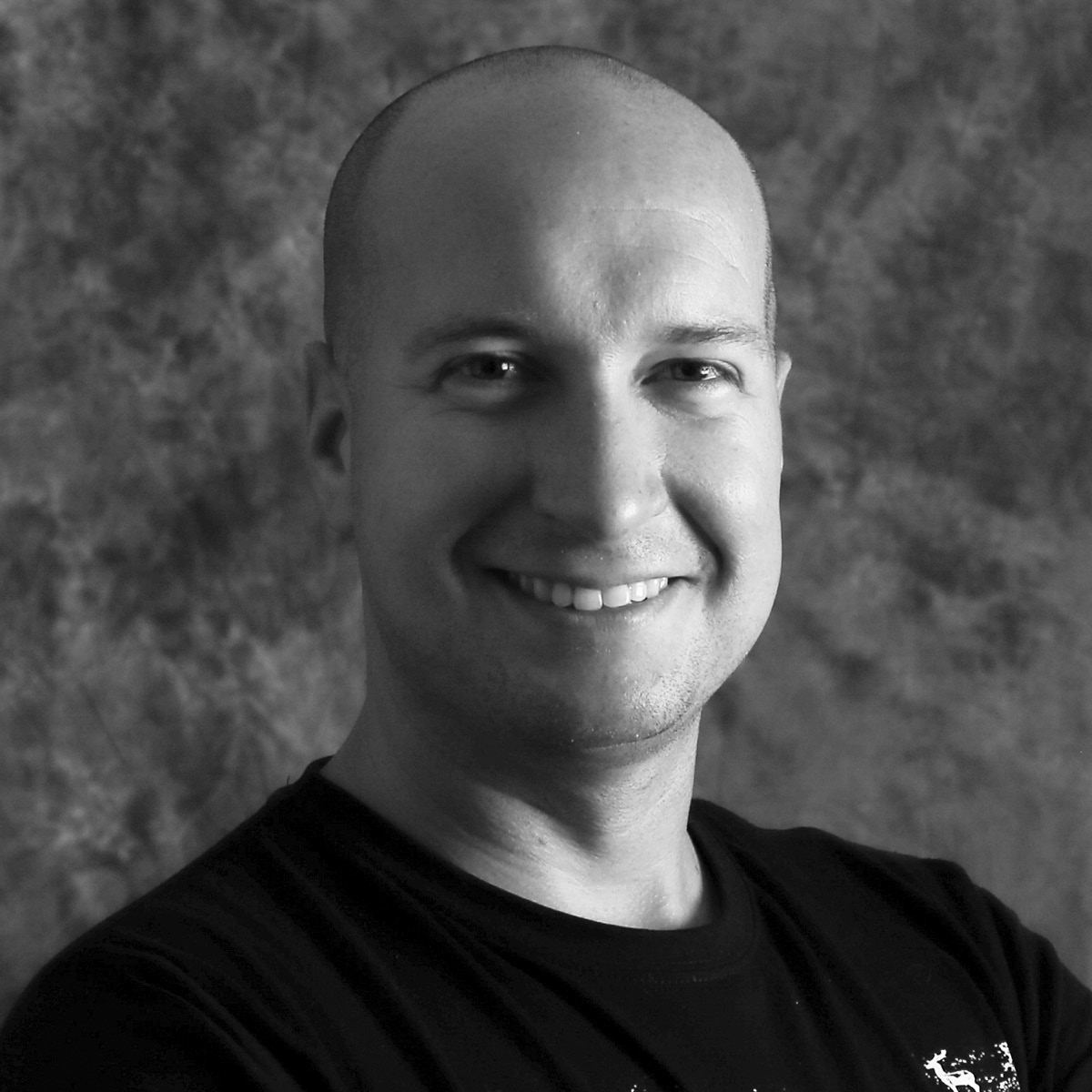 Marko Oette, COO PS.Content, HUP GmbH